Save water at home—and online too.
WaterSmart: A smart way to track your water.
What is WaterSmart?
To help customers save water (and money on their water bill) the city of Thornton offers WaterSmart, a water monitoring program that lets you track your personal water consumption online. Since 2018, over 12,540 Thornton water customers have registered with WaterSmart.
How do I use WaterSmart?
Simply access your account online and get great visibility into where your dollars flow. Once you sign up and log in you can create a household profile to see how much water your household uses, track your use over time, and compare it to the usage of other similar customers.
How can WaterSmart help me?
Get the most out of WaterSmart by customizing your household profile. Enter information like how many people live in your home, how many toilets are in your house and the size of your yard. This information can establish an accurate baseline so in the future, you can compare how much water you are using with how much water you used in the past (hopefully it's less!)
What are some ways I can customize WaterSmart?
Just like other online portals or mobile apps, you can set custom notifications and alerts. For example, similar to a banking app that lets you know if your account balance is low or if your bill is due, WaterSmart lets you set consumption thresholds and other triggers for notifications.
Here is an example of a water customer's historical monthly water usage. It demonstrates how easy WaterSmart is to navigate and customize.
Can WaterSmart save me money?
Tracking your water use can bring a leak to your attention quickly so you can mitigate any damage or cost. For example, if you're monitoring your use over time, and you and other household members are maintaining consistent water use behaviors during that time period, yet you notice WaterSmart is showing your water use has been trending upwards, then this could be a signal you have a leak. WaterSmart can then recommend a complete leak investigation to find the wasteful culprit.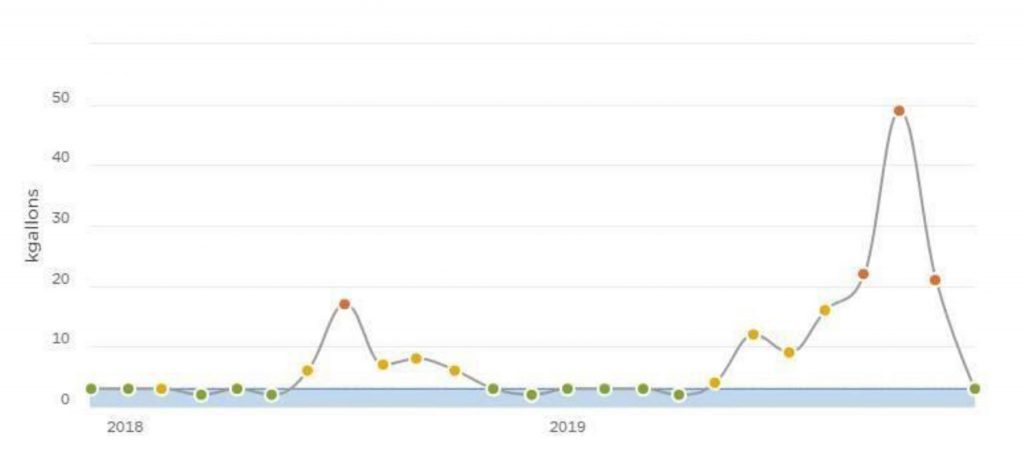 This chart shows a customer's water use over time. Because of a spike in otherwise fairly consistent use, the customer received a notice of a possible leak—plus a higher-than-normal water bill in September 2019. They logged into their WaterSmart account to check it out. The customer went through the online step-by-step instructions to investigate why their usage was high, which lead to a discovery of a leak in their sprinkler system. The customer had this feedback to share, "I was only watering once a week for 20 minutes. A brand-new valve had apparently cracked and I was unaware of the leak. Very grateful that WaterSmart informed us."
Why should I sign up with WaterSmart?
WaterSmart provides detailed instructions on how to locate possible leaks. It also offers personalized water-saving tips for your household, allows you to track and compare your average daily water consumption with your historical usage, and even compare how much water your household uses versus similar households in Thornton.
"We love the ease of being able to view our water usage at any time. It's so helpful to see how we are doing compared to previous years and set use alerts if we use more than our normal amount. Managing our water has never been easier!" —Thornton Water Customer The Kaiser Family
Signing up for WaterSmart will let you take charge of your water use and be part of a citywide investment in water security today, and for years to come.
Ready to sign up?
All you need is the 13-digit customer account number on your Thornton utility bill, plus your address and ZIP code, and you'll be all set to create your personal profile at Thornton.WaterSmart.com.
If you have questions about WaterSmart or other water-saving opportunities, please call Water Resources at 720-977-6600 or email Water@ThorntonWater.com.