Advanced Metering Infrastructure Is Here
Emerging technologies surround us. Maybe you depend on continuous upgrades to technology on your cell phone, monitor your home with a video-operated doorbell, or even use a weather-based irrigation controller to help make your life more efficient. Water utilities everywhere are doing the same thing, seeking tools to make water services more efficient. In 2020, Thornton was awarded a $1.5 million WaterSMART grant from the Bureau of Reclamation to implement new technologies to improve water services citywide.
The Project
The Advanced Metering Infrastructure (AMI) and Residential Meter Conversion Project is anticipated to save approximately 2,100 acre-feet of water each year (AFY) by providing the city's customers additional tools to make more efficient water-saving decisions. In addition, the city anticipates improving staff/resource efficiency and reducing water loss from the distribution system with the implementation of AMI and associated technology.
What does 2,100 acre-feet (AF) of water amount to?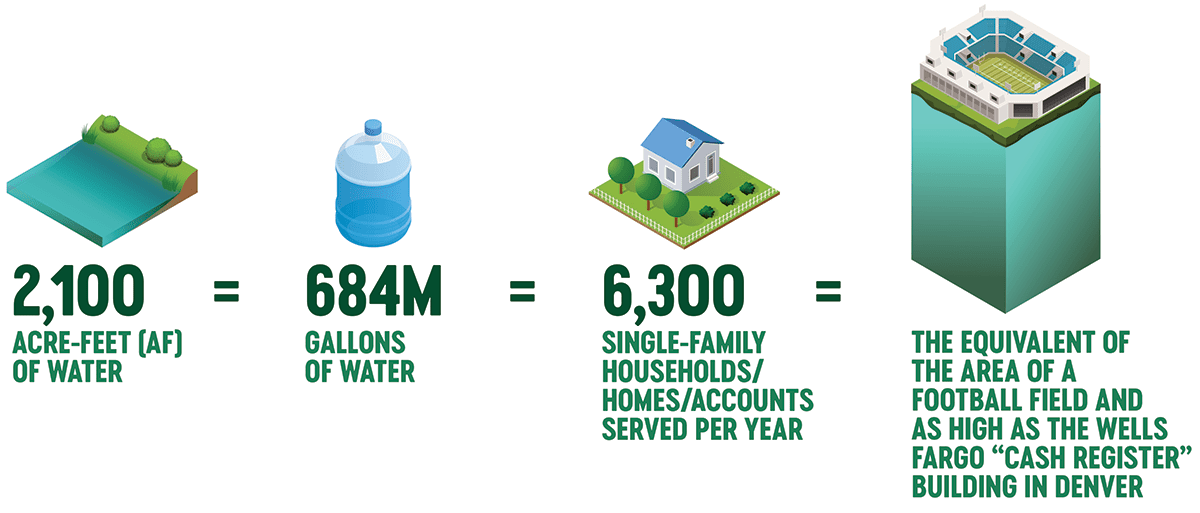 The Evolution of a Water Meter
Water meters have changed over time. Traditional meters required utility staff to physically read each meter at homes and businesses to collect water use data. Then, automated meter reading (AMR) became more prevalent and allowed staff to collect data by simply driving by the water meter once a month where meter data was sent by radio signal to a receiver located on the meter reading vehicle. This resulted in more efficient and accurate data collection. AMI technology (learn more here) still uses radio frequencies for remote collection of water use data – but is able to do so in real time, several times a day, as it communicates with data collection infrastructure located throughout the city.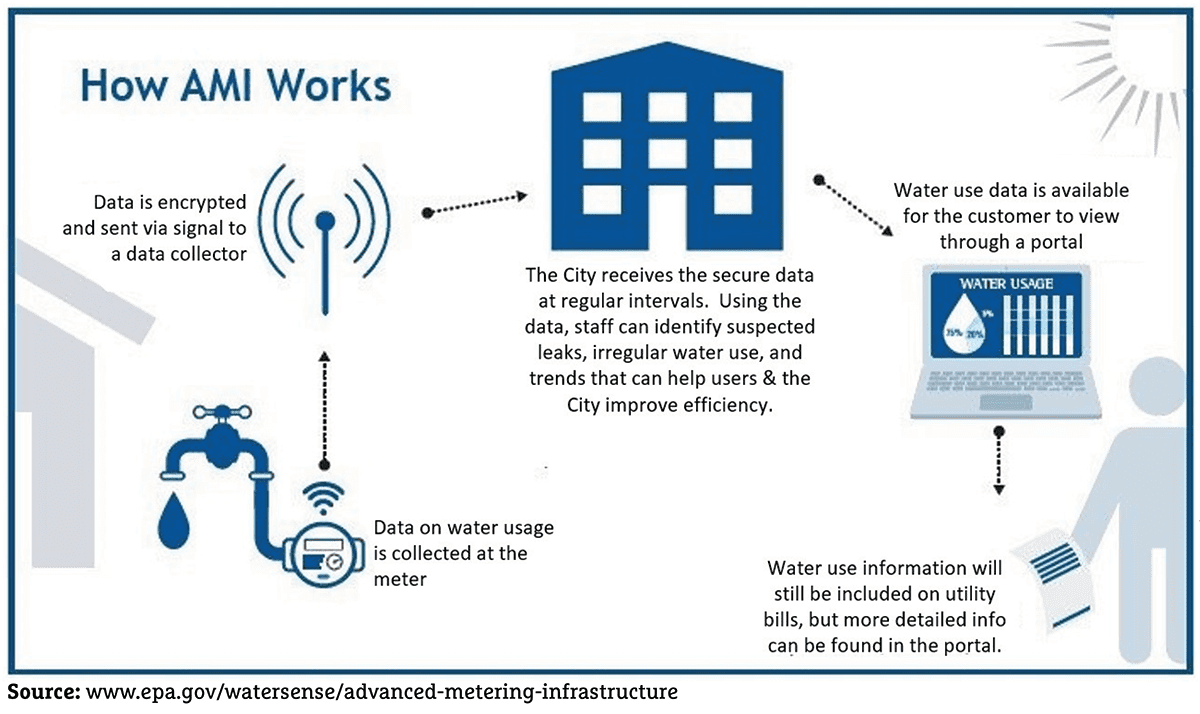 AMI can be described as an integrated system of water meters, communication networks, and data management systems that enable two-way communication between meter endpoints and utilities.
Thornton's Process for Staying on the Cutting Edge
According to the American Water Works Association, as of September of 2021, 68% of utilities have installed or are installing AMI technology in their service area.
With the help of the WaterSMART grant and Thornton's operational meter replacement program, by 2025 Thornton's 45,000 meters will have the technology to provide water usage readings at 0.1 gallon resolution, rather than the original 10-gallon or 1,000-gallon resolution.
In 2017, Thornton launched its customer water portal, WaterSmart (learn more here), which helps all water customers track their water use online. In the future, this portal will be directly connected to the AMI technology for more accurate tracking and timely leak alerts. The final step will be connecting the AMI interface with the data collectors to send water use information to the city and the customer portal.
AMI and Customer Privacy
Transmitted data is encrypted, and private customer data is not transmitted. Water meters will not be communicating constantly, just a brief micro-second signal at regular intervals each day. All AMI communication is operated according to Federal Communications Commission rules.
Preparing for the Future
AMI technology allows residents and utilities to better track water use multiple times a day, making it easier to hit conservation targets and quicker to detect leaks. Under the current reading method, discovering a toilet leak could take up to 30 days between meter readings resulting in a possible loss of thousands of gallons of water, whereas uncovering a toilet leak with AMI technology can greatly reduce the water loss and allow the customer to act fast to avoid a high water bill. . These city advancements will provide a more reliable water use tracking system that improves efficiency and empowers customers to manage their water use more effectively.