Water Treatment – A Complex Process Made Easy
While creating the recent Value of Water video series, we learned customers are confused about what our water treatment plants really do. Thornton has two operating DRINKING water treatment plants to process the snow melt into the water delivered directly to customers' taps. Wastewater treatment happens at Metro Water Recovery in Denver after water leaves a customer's home or business via a separate sewer system.
To get a bird's eye view of the process, watch the video "Your Water Quality."
Our water treatment processes ensure the city's drinking water meets all state and federal drinking water regulations*. A critical component to achieve this goal is our state-of-the-industry water treatment plants and the skilled professional staff that operates them. It takes a lot of H2O Heroes to sample, monitor, test, and treat the water you drink.
Meet Santiago!
Santiago is a Water Quality Analyst for the city and is responsible for collecting samples from each of our water supply sources including our gravel lakes, Standley Lake, the South Platte River and Clear Creek. With a background in chemistry, he analyses the water samples throughout the treatment process using ion and gas chromatography/mass spectrometry to help make Thornton's drinking water. He enjoys working with customers to teach them the importance of the treatment process and the regulations the city follows to meet quality control guidelines. As a part of his work, Santiago tracks the trends of drinking water quality parameters across different municipalities in Colorado and he's passionate about developing the skills it takes to master the scientific process of water treatment.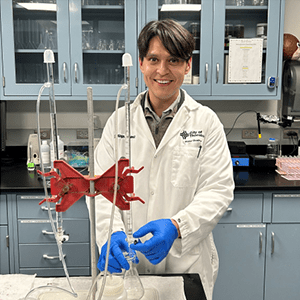 On the weekends, you might find Santiago playing violin in a Mariachi band!
Meet Matt!
Matt is a Senior Water Plant Mechanic, and he knows all the machines, welders, and actuators that open and close valves at the treatment plant. Each day he works on the essential pumps, motors, compressors, generators, and pipe fittings that continuously move water through the system. This work means fabricating, rebuilding pump components, repairing compressors, troubleshooting water plant issues, thinking outside the norm solve unique challenges. Matt enjoys performing new tasks each day, and even having to problem solve during the night. Operating a treatment plant is 24-7-365.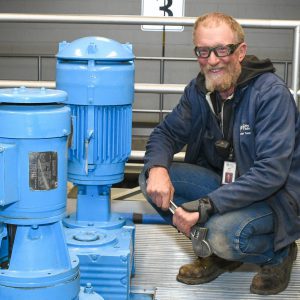 During his time away from work, he could be working on rental properties, aerating yards, or navigating rough terrain on his ATV.
Meet Caleb!
Caleb is a Water Quality Administrator and spends a lot of time representing Thornton's positions on state and federal legislation for regulatory affairs. Sounds fancy, right? Monitoring, managing, and protecting our source water is one of the first steps in the water treatment process by helping to control harmful Algal Blooms and improve source water quality. Caleb coordinates the samples and analyses of water quality data to provide recommendations to treatment staff while also managing the pretreatment program. He believes his job is very meaningful because he helps protect the environment and our community's health.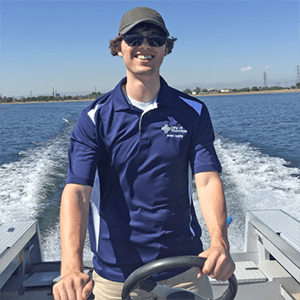 Off the job, if you look toward the mountains, you'll see Caleb rock climbing, skiing, hiking, or backpacking with his family.
Thornton has a specially trained, highly quality team to carry out the 24-7-365 process of delivering clean water. Still curious about the process? Check out the graphic below provides to see how water flows though the Thornton Water Treatment Plant.