The Dollars and Sense Behind Your Water Rate Increase.
Effective April 1, 2022, a water rate increase is in effect to keep pace with the cost of delivering safe, clean drinking water to you. You will see the new rates on your May water bill. Just like all services, water rates are regularly adjusted to cover the rising costs of power, materials, and other commodities that are necessary for supplying water to all Thornton customers.
Investing in the system.
Although it amounts to about a dime a day increase for most customers, it represents a big investment in our community.
Maintaining our water system is a complex undertaking that is managed 24-hours a day, 7-days a week, 365-days a year by trained engineers, scientists, and certified staff. There's so much that happens behind the scenes for us to be able to deliver the water you need with a simple turn of the tap.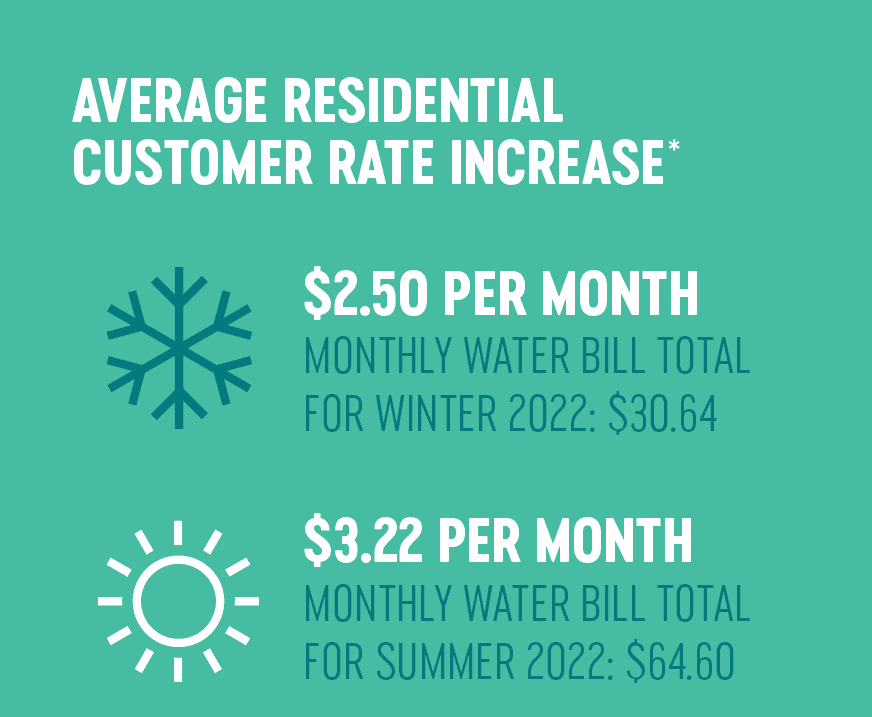 *Average monthly water use for 86% of residential water customers (4,000 gallons in winter and 10,000 gallons in summer). Bills are calculated based on actual monthly usage.

Protecting the water rights that the city owns.
Operating, improving, and expanding water storage and treatment facilities.
Monitoring, testing, and treatment to produce safe drinking water.
Maintaining and replacing pipelines, pump stations and valves.
Replacing and maintaining all water meters throughout the city.
Inspecting and maintaining fire protection systems including fire lines and hydrants.
Sustaining and securing water supply for customers now and into the future.
We want you to know more. In the months ahead, we'll provide fascinating facts, images, and other details about your water system. We'll show you how your water treatment plant operates, how underground pipelines are maintained, how new technologies are implemented, and much more! Subscribe to Waterblogged to stay informed.
Investing in each other.
Using water efficiently is a job for our entire community. We rely on you to help sustain our water resources long into the future, so we encourage all customers take advantage of rebates and to participate in water savings programs provided by the city.
Saving water all around the house is important, but because about 50% of the water used by residents is on outdoor landscaping, here are a few ways to plan ahead for water savings this summer:
Water-Wise Landscape Rebate
Irrigation Controller Rebate
Rain Sensor Rebate
Sprinkler System Consultation
Discounted Lawn Removal Service
Free H2Overhaul Kit
Discounted Garden In A Box
Together, there's a lot we can do to preserve our water supply and help you save money on your bill during our hottest months.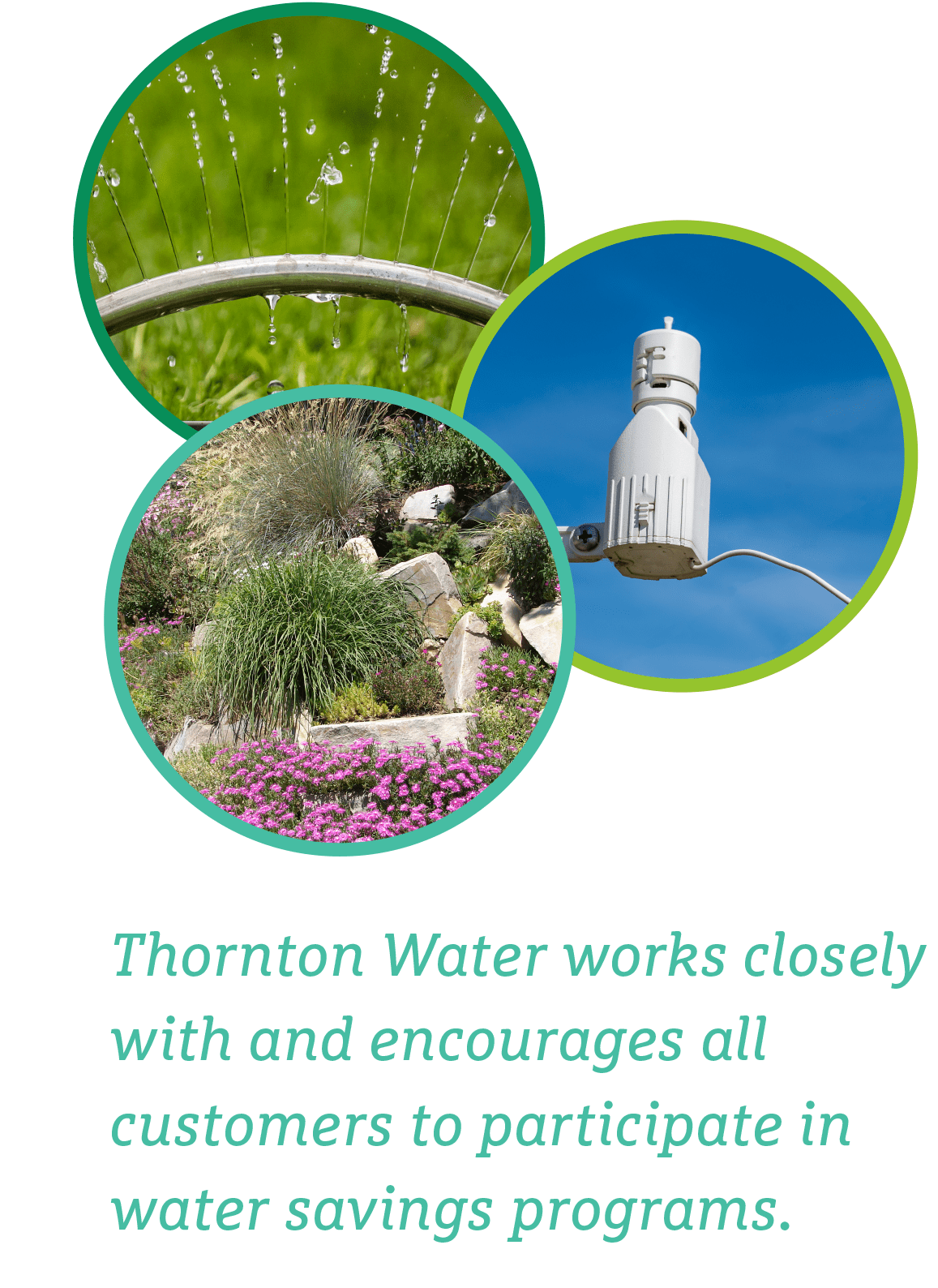 Making cents of your water rates.
While no one likes seeing prices go up for something we depend on every day, a rate increase of about a dime a day for most customers helps ensure all of us enjoy clean, safe, reliable water.

Interested in how Thornton calculates your water bill each month? Learn the ins-and-outs about the tiered rate structure that can show where you use the most, and can save to stay within your monthly allotment – Water Tiers Made Clear.
The Thornton Water Assistance Program is also here to help income-qualified individuals and families pay their water bill. If you need help or have questions, visit gocot.net/waterassistance, call 720-977-5800 or email Assistance@ThorntonCO.gov.
Contact Utility Billing at 303-538-7370 or visit gocot.net/Billing to learn more about your rates.